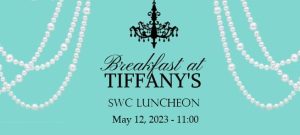 ** PLEASE NOTE – This luncheon is on FRIDAY ** We will be in the Skyline Ballroom upstairs at the Westin **
Mark your calendars for our May luncheon on Friday, June 9th.  Fun plans are in the works for this "Breakfast at Tiffany's" themed luncheon.  A little black dress might be appropriate for this one!  In keeping with tradition, we will have some fabulous raffle prizes on offer.  Don't miss out on our final luncheon of the 2022-2023 year.
Purchase your luncheon and raffle tickets now!